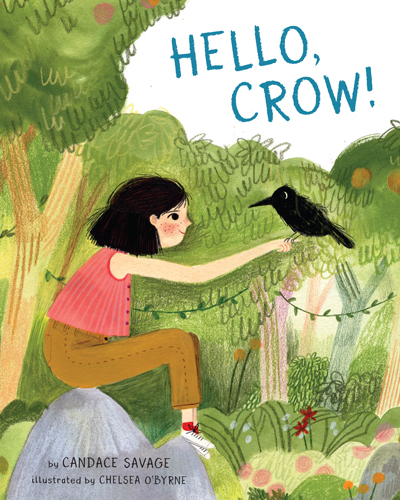 Hello Crow!
By: Candace Savage
Illustrated by: Chelsea O'Byrne
Available September 24, 2019
Will Franny ever prove to her dad that crows and kids can be friends? 
Franny has a new friend—a crow who brings her presents in its beak. Like a red button! And a silver heart! Franny's dad doesn't believe her. He says crows and kids can't be friends. But Franny knows better.
How will Franny prove her new playmate is real? And what will the crafty crow bring next?
Candace Savage is the award-winning author of more than two dozen books. Her writing for young people has been honored by the Canadian Children's Book Centre and the New York Public Library, among others. She lives in Saskatchewan, Canada.
Chelsea O'Byrne is an illustrator from Vancouver, Canada, where she spends her time drawing pictures in a neighborhood surrounded by crows. Hello, Crow! is her third children's book.https://candacesavage.ca/wp-admin/post.php?post=951&action=edit#
Reviews:
"A gift for the nature shelf."  Kirkus Reviews, June 25, 2019 https://www.kirkusreviews.com/book-reviews/candace-savage/hello-crow/
With patience and persistence, Franny befriends a crow.
Franny's father calls her a "featherhead," but what she's paying attention to is the natural world. Savage, who has written extensively about nature for adult audiences, both tells and shows us an antidote to Richard Louv's "nature-deficit disorder" in this satisfying picture book. Her nature-loving protagonist leaves a mess inside but finds endless entertainment out of doors. Seated on a rock with her sandwich, she drops crumbs that attract a crow. The next day she purposefully brings food, and soon the crow begins to bring her small gifts. Eventually, her father recognizes that the crow is not imaginary; their friendship is real. The illustrations celebrate the wonders nature offers this resourceful protagonist, especially in a spread illustrating "a dozen different ways to pass the time while she waited" for the crow to appear—climbing trees, swinging on a tire swing, reading in a hammock, looking through binoculars, drawing, making a daisy chain, even helpfully trimming a bush. O'Byrne's illustrations show an appealingly freckle-faced white girl living with an indulgent, if distracted, father, also white. These images are relatively flat and childlike, and the effect is very child friendly. In an afterword, the writer tells readers a bit more about crows and poses an unanswered question: "Do they actually like or love their human helpers?"
A gift for the nature shelf. (Picture book. 4-8)